What is Rhema?
We at GodsRhema are dedicated to teaching the pure unadulterated word of God. Hear at GodsRhema we do our best to simplify our teachings, we try to avoid big words that nobody knows what they mean.

We read in 1 Cor 2:4 "And my speech and my preaching was not with enticing words of man's wisdom, but in demonstration of the Spirit and of power:"

We avoid man's wisdom and carnal world views. We bring a clear understanding of God's Word, relying on the Holy Spirits guidance and teaching.

We read in 1 John 2:27 in the NLT " But you have received the Holy Spirit, and he lives within you, so you don't need anyone to teach you what is true. For the Spirit teaches you all things, and what he teaches is true--it is not a lie. So continue in what he has taught you, and continue to live in Christ."
Teaching Topics include: The Trinity, The Fall of Mankind, Salvation being Born Again, Baptism, Sanctification, Gifts of the Spirit, Discipline, The Great Commission, Spiritual Warfare, Ministering Spirits, and The End of the Age.
We are Here to Minister; The Word of God.
John 8:47a He that is of God heareth God's "Rhema" words:
Acts 15:11 KJV But we believe that through the grace of the Lord Jesus Christ we shall be saved, even as they.
2 Tim 3:16-17 KJV All scripture is given by inspiration of God, and is profitable for doctrine, for reproof, for correction, for instruction in righteousness: That the man of God may be perfect, thoroughly furnished unto all good works.
To bring you to full age, in Christ.
Eph 4:12 KJV For the perfecting of the saints, for the work of the ministry, for the edifying of the body of Christ:
Heb 5:13, 14 KJV For every one that useth milk is unskilful in the word of righteousness: for he is a babe. But strong meat belongeth to them that are of full age, even those who by reason of use have their senses exercised to discern both good and evil.

Mark 16:15 KJV And he said unto them, Go ye into all the world, and preach the gospel to every creature.
Rom 10:8 But what saith it? The " Rhema" is nigh thee, even in thy mouth, and in thy heart: that is, the "Rhema" of faith, which we preach;
Fundamental Doctrines
God's Building Stones
Is a series of teachings that I was lead by the Lord to put together, the Lord showed me how the body of Christ needed a solid foundation of the Word of God. I taught these lessons; Building Stones, in Sunday school.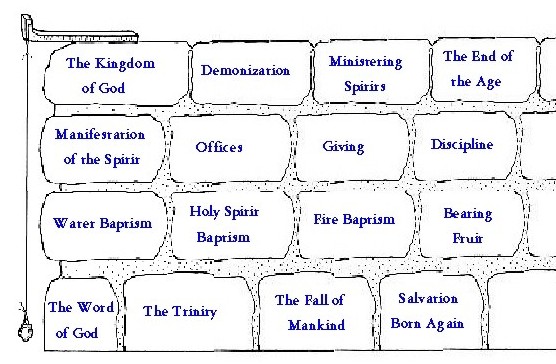 Then I compiled these teachings, and put them in book format "e-book", I went back throw them and put together a bibliography of resources books that I found to be a good help in my studies and putting together these teachings. There are some direct quotes from some of these great men of God. The bibliography is broken up in two parts general references that is main resources books that was used and references by lessons, references by lesson is a listing of resources books that I quoted from in that lesson.